Kool Keith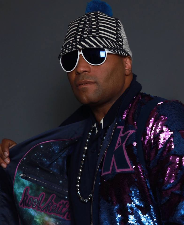 n a world full of cheesecake rappers, one man has assembled a phenomenal team to bring you madness. So stop stop what you're doing and get ready for a journey you've never taken before. Enter the sinister doctor, the Ultramagnetic visionary, Kool Keith, whose "Feature Magnetic," released Sept. 16 on Mello Music Group, is his latest bizarre transformative odyssey .
As always, Keith seems unstuck in time, oblivious to geography, brilliantly mixed unflinchingly grim details with surreal, fantastical tangents. He's from the Bronx, but belongs to far-reaching astral dimensions. And Where many of his contemporaries have become legacy acts or revivalists, Keith continues to originate and perfect his wild style. He's parked behind Oracle Arena in Oakland with Norah Jones -- riding a horse and carriage through Central Park (bystanders shout that he looks like Mike Tyson). He drinks with MF DOOM in dusty London basement and recruits a legendary squadron of fellow travelers including Sadat X (Brand Nubian), Bumpy Knuckles, Boston pioneer Ed O.G., Slug from Atmosphere, and Vallejo legend Mac Mall.
Throughout, Keith weaves in and out of our reality, stopping only long enough to dap his friends and pass the mic. The songs are straightforward: spare, innovative beats, simple hooks, and razor-sharp verses from an unlikely collection of geniuses. Keith switches moods, cadences, and points of view effortlessly. On "Tired" he's world-weary and unappreciated; on "Bragging Rights," the mink coat melts off his shoulders like butter. "Peer Pressure" cryptically considers his career and the shifting racial demographics of his audience, a far cry from the scene in "Stratocaster" when he pulls up in the teal Maybach, handing out off-the-book jobs to the people.
In an era of careful branding and secret signings, it's a radical act to put out a rap record where no MC can hide. The no-frills approach is a high-wire act, the kind of format that weeds out the fakes and the imitators. Predictably, however, "Feature Magnetic" is full of world-class acrobats. On the closing track "Writers," Ras Kass sums it up best: "H-O-R-S, me and Kool Keith playing HORSE with a verse/ ...all you hear is swish."
credits
released September 16, 2016
Social Links
Currently no events scheduled.